A set of gauges integrated with an FMS unit as an avionics upgrade for PAOB Fokker 60, it is a payware which are NOT included in PAOB Fokker 60 Packaging.

Flight Management System - FMS works similar to the Honeywell/King GNSXLS FMS. Features include loading stored flight plans, holding patterns, VNAV, SID's and STAR's.

So far, I want to upgrade myself become a professional FS pilot, alway want to try FMS but never have chance! Say thank you for the author ERNIE ALSTON , actually it is a 1st FMS addon for FS world which can be used in any aircraft I want!

I highly recommend this FMS, it is the sophisticated equipment to work with my flight plan. Now I could follow the SID and STAR more accurate, even set the transition and cross alt., it will give me reference of the rate, when and where I should descent.

I never use FMS before, so I always think that FMS look like complicated and not easy to use! At the beginning, I feel that it is a bit not user friendly, but the author provide very good technical support service, he teach me a lot. After I got much understanding it functions, I begin used to it and like it, I got some new flight experience I never have before!
---
Integrated Simavionics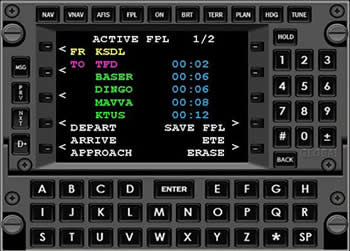 A set of gauges integrated with an FMS unit as an avionics upgrade for
Microsoft Flight Simulator 2004/FSX
www.isgsim.com
---
"ISG - FMS" addon for PAOB Fokker 60 FSX

It should NOT be included the package of PAOB Fokker 60! You have to buy it by yourself!



---
Last Updated on Wednesday, 19 June 2013 02:26