A set of gauges integrated with an FMS unit as an avionics upgrade for PAOB Fokker 50, it is a payware which are NOT included in PAOB Fokker 50 Packaging.

Flight Management System - FMS works similar to the Honeywell/King GNSXLS FMS. Features include loading stored flight plans, holding patterns, VNAV, SID's and STAR's.

So far, I want to upgrade myself become a professional FS pilot, alway want to try FMS but never have chance! Say thank you for the author ERNIE ALSTON , actually it is a 1st FMS addon for FS world which can be used in any aircraft I want!  

I highly recommend this FMS, it is the sophisticated equipment to work with my flight plan. Now I could follow the SID and STAR more accurate, even set the transition and cross alt., it will give me reference of the rate, when and where I should descent.  

I never use FMS before, so I always think that FMS look like complicated and not easy to use! At the beginning, I feel that it is a bit not user friendly, but the author provide very good technical support service, he teach me a lot. After I got much understanding it functions, I begin used to it and like it, I got some new flight experience I never have before!
---
Integrated Simavionics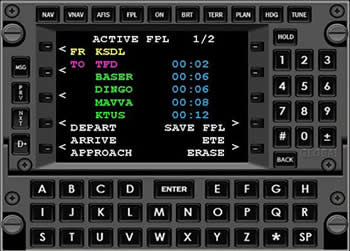 A set of gauges integrated with an FMS unit as an avionics upgrade for
Microsoft Flight Simulator 2004
http://isgsim.com/?page=panel_library&sub=retro_paob_f50
---
"ISG - FMS" addon for PAOB Fokker 50 FS2004


Installation:

(1) "ISG-FMS" should NOT be included the package of PAOB Fokker 50! You have to buy it by yourself!
PAOB support the "Panel.cfg" file only!

(2) Please download and unzip the file for FS2004
http://75.125.60.12/~precis20/download/Fokker50/FMS-fokker-50.zip

(3) Copy the file "panel.cfg" to the following directory:
C:\Program Files\Microsoft Games\Flight Simulator 9\Aircraft\Fokker-V1.0\Panel
---
Customizable Pushback
FSCopilot : The indispensable toolbox
FSCopilot is a software suite of components created by FSFDT team to allow later utilities development.
Although thus possessing an orientation turned to developers, FSCopilot understands however a suite of add-ons like graphical and customizable pushback, a "Timesync" which allow to use Zulu time and fly at the real time on every airports, a hPa converter to inches, a full radio stack, a "head effect" to feign the effect of the head and modify the way you are looking the virtual cockpit… In brief, a quantity of small softwares usable in remote on another machine thanks to modules client server incorporated and which represent very easily all the capabilities offered by FSCopilot.
http://flightsim.apollo3.com/docs/fsinn/connectiontovatsim.htm
FSCopilot is free!
I like the graphical and customizable pushback function which even have voice communicate with ground crews!
---
Last Updated on Tuesday, 25 June 2013 04:38